After the year we've all had, I think it's safe to say a trip to the Hamptons sounds like the perfect escape. The clean breeze, soothing waves, and tranquility all are so appealing, no wonder the Hamptons are such a popular destination! Many of our clients have stunning beach houses in the Hamptons, and we've come to find that bringing a little bit of that refined, yet relaxed Hamptons energy into our NYC interior design can be a great choice. Today, we wanted to share a bit of our philosophy into channeling that Hamptons interior design style no matter where you live. Take a look!
It's All in the Mix
If you've been following us for a while, you know that style mixing is a big part of how we create our magic. And designing with the Hamptons Interior Design style in mind is no different! As you can see above, we mixed a multitude of styles, patterns, and textures to attain this relaxed look. We mixed materials like the raw wood table and the exposed brick fireplace with crisp, clean lines in the furniture. We added abstract art above the fireplace to balance the very contemporary lines of the millwork and windows. To tie it all together, we added in subtle, yet intricate patterns in the wool rug and the throw pillows to add some more interest and culture to the space.
Contrast is Everything
Next, we have contrast. Now, when people typically think of beach houses or Hamptons Interior Design style, lots of white and neutrals come to mind. While that light palette is important to open up the space, we like to balance it out with dark accents.  In this kitchen interior design, we added in two dark wood islands to ground the space, and incorporated black matte hardware to help visually define the spaces in the cabinetry. These little touches really made such a difference in making the space feel balanced yet refined.
Durable Performance Fabrics
Additionally, durability is key in a Hamptons home. While the Hamptons are known for relaxed, peaceful vibes, your home inevitably takes on a lot of wear between wet swimsuits and sandy pups. In order to keep your upholstery and furniture long-lasting, we recommend working with durable, performance fabrics on any high-traffic furniture. In the image above, we used a beautiful indoor/outdoor fabric from Perennials on the dining chairs. This fabric is stain resistant, water resistant, and, as we like to say, "life resistant". Perfect for your beach house or any busy family!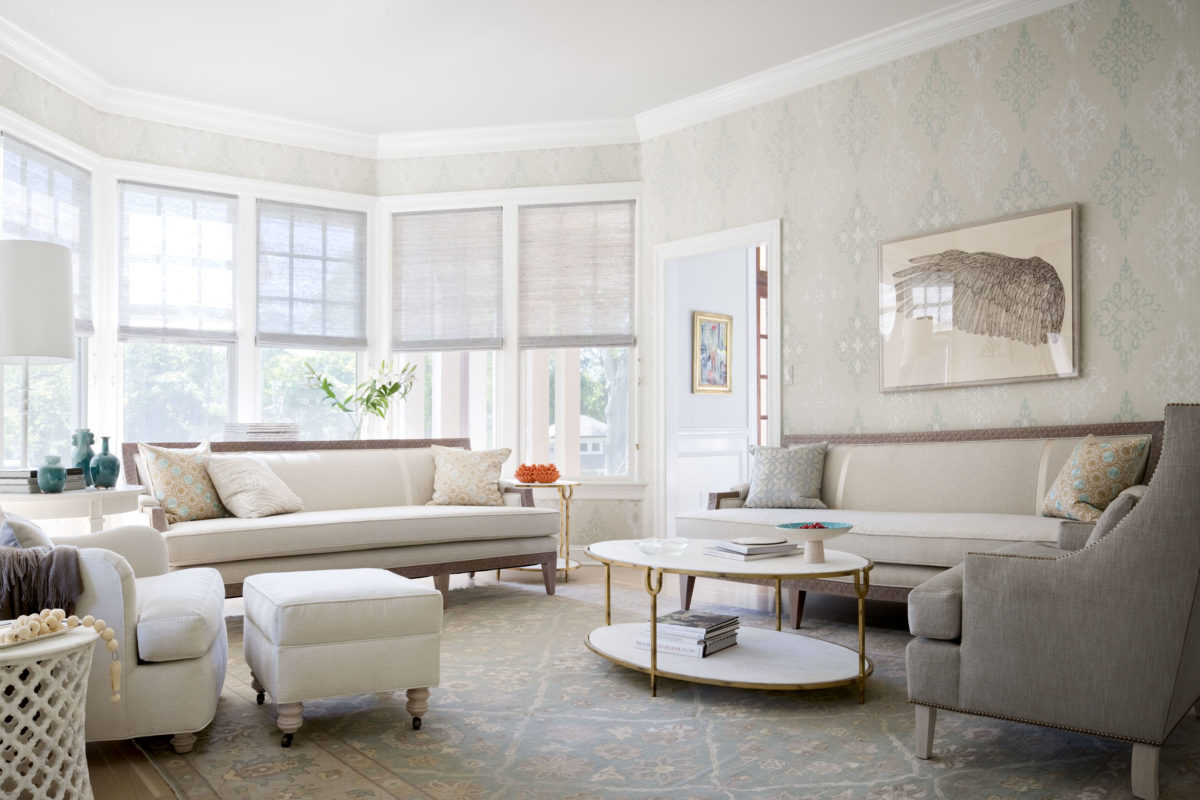 Bring in Color
Now we know, the Hamptons Interior Design style is infamous for neutrals, we feel it's important to bring in color to keep it from getting stale. Even just adding in pastels in place of a neutral makes a huge difference! In this living room interior design, we brought in color through the wallpaper and rug to balance out the neutral furniture. As you look through the room, we also brought in new life through accessories. A coral accent on a side table, some teal vases for holding fresh blooms, a colorful painting peeking from the hallway: subtle touches for maximum interest.
Coastal Inspired, But Not Obsessed
Last but not least, if you're working with a Hamptons Interior Design style, of course you'll be inspired by the coast, but you shouldn't be obsessed. In this bedroom interior design, we brought in homages to the beach through the washed wood dressers, and shell texture on the nightstands. We love using texture to hint at a theme without it being too in your face. We also tied in light blues and sandy beiges to bring the coastal vibes in. The perfect mix!
While a beach getaway may be a ways away, we love getting the chance to work with our Hamptons Interior Design clients on their stunning homes, and helping our NYC clients bring in a taste of the coast to the city. If you liked this project, you can see the full collection here. And if you're ready to start designing your home away from home, you can also contact us here to set up a consultation. See you next time!